Heyyy. Sorry for the current MIA status. I got compromised in homework and more work. ("never begging for a paycheck").
picture courtesy of http://marksinthemargin.blogspot.com
I will be posting blog posts at random times until the summer. School is almost over so I have some pockets in time in which I will be posting some stuff.
FYI

: if you like being in the know about what is going on outside the world, check out Democracy Now. You can get their app through google play or check out their website: democracynow.org. Never hurts to be informed.
In other news: I have been finding awesome stores online and getting some cool deals off of Etsy. The list goes as follows:
picture courtesy of lttlshopofhorrors
1. LttleShopofHorrors: With the motto "accessories for the alternative chick"; this store holds a variation of punk, psychobilly, and horror themed accessories for females who like to rock it. I bought the zombie bait necklace and got this hair pin with it. I wore it to work and got a nice compliment.
2. FunDotDot: A bracelet store based in Illinois, Chicago this store houses leather bracelets in different styles. Some involve a play in graphics and others are just colorful. I actually bought one with studs that had simple graphics on it. If you love leather bracelets, you will dig this store. Plus, they are sold at affordable prices. Durable+affordable= worth it. FYI: boys, you can also check out this store for your own accessory tastes.
3. ModifyU: I have a thing for creative gauges. If you stretch out your ears to whatever size it is, I think you should accessorize them in style. And this one sells just the right ones. I haven't bought from here yet, but I am planning to what with affordable prices and crazy colors and all. This store's guages are all made in polymer clay and they even have a few fake guages. The only con is that the store doesn't take custom listings.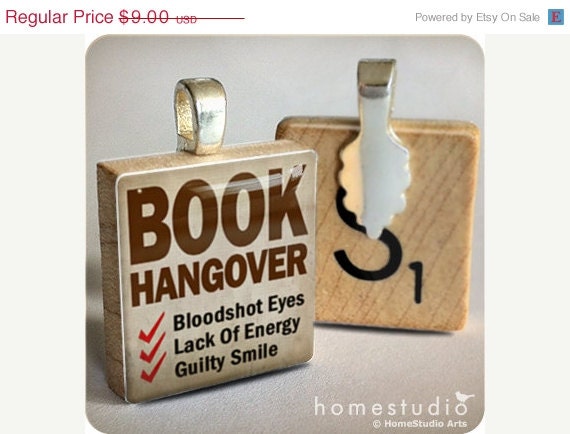 picture courtesy of homestudio
4. HomeStudio: I don't know if you have noticed but lately there has been a trend of scrabble tile pendants. Just plain creative and there are so many stores out there in cyberspace doing these necklaces. I am not aware how this trend came about but I do recommend checking this one. The images on their scrabble tile necklaces are cute, fun, and sometimes even funny. They do receive custom sales so don't knock it until you try it.
5. WillsTshirts: Love old shows such as Xena the Warrior Princess, Roswell, Charmed, Buffy the Vampire Slayer? Well if you do: you will love this store. "Will Sandy" the Etsy owner of this Etsy shop sells shirts with images of the aforementioned shows along with keychains and tote bags.
Again, my apologies for being MIA but I do hope you find these finds cool enough to invest or at least spread the word.
Thanks for sticking with Rockinglicious!
Miss Bobo